Last week we took part in Wedding Exhibition in Wrocław (Poland). Lots of newlyweds-to-be asked us many questions: what about thank-you gifts for parents, what about ideas for a wedding picture and ideas for wedding gifts, as such. Just to meet your expectations we decided to garner all information in one place and write kind of an article, where zou can get familiar with new trends and fancy wedding gifts.
Your wedding very often is the most important day in your life. All needed preparation take months and you want to have Your Day to be just perfect. It's not so easy to decide about the wedding dress, rings, thank you gifts for parents, gifts for wedding witnesses and wedding guests, to book an orchestra or maybe a DJ, what about wedding pictures… These are just a couple of choices you need to decide on (you and, very often, your parents).
Crystals 3D wants to mention and show you a couple of ideas you can use and tailor to your needs, to make Your Wedding Day the best day ever.
Crystal thank-you wedding gift for parents
If you are looking for an extraordinary thank you gift for parents, this is the best place to search for it. We personalize all projects, what means also the one for you will be a unique one. Why do we do our best to treat every single customer with such attention? Because a wedding gift should be exceptional. Maybe your project is one among others for us, but we surely know (and this is more important), that your project is The One for you. So, a thank you gift can be engraved in a crystal of a chosen shape, be sure we will advise you on it, to make the choice easier and the right one.
<pHowever, a 3d thank-you gift, in most cases, combines some elements:
a picture of newlyweds

– you can send it to us by e-mail -> depending of a chosen crystal shape, it can be engraved as a 2d picture or we can convert it to the 3d picture (more about such conversion of 3d picture in this article); we can also take a 3d picture in Wrocław (Poland) in our studio, if you have a chance to visit us

personalized inscription for parents

– it is absolutely better if you, by yourself, write the text down, as this is you who know what important for you and your parents is. We can advise on the text length, needed elements, but the text, as such, should be straight from your hearts. This way each engraved crystal wedding gift will be unique

3d ornament

– as a project complement -> most often you choose a bunch of flowers, 3d hearts of 3d doves. If we have (in our library) a 3d ornament you are looking for, you will get it engraved for free
Such a crystal statuette for parents will make their tears spring into their eyes, as it is a very personal, but also a chick idea for a thank you gift for those ones who really deserve to celebrate the day with you with extra attention and respect.
3d thank-you gift for wedding witnesses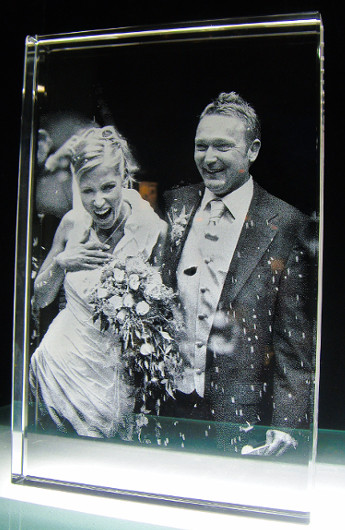 A crystal heart, a candle holder or any other crystal shape can be a lovely idea for a gift for a witness at a wedding. Such a crystal gift for wedding witnesses is also personalized and most often contains a 3d ornament (a rose or other flowers) accompanied with a personalized inscription, newlyweds' names and the wedding date. You can ask us for such a thank you gift idea, and be sure we will come up with a gorgeous notions.
A wedding gift for Godparents
Just as for witnesses, we have beautiful personalized crystals for Godparents. We can compose a wedding gift containing a 3d ornament, personalized text and your picture. We know that sometimes it is quite difficult to come up with own ideas, so feel free to contact us and ask for wedding gift ideas for your Godparents.
Thank-you gifts for wedding guests ideas
Classy and chic wedding gifts are, and always will be, welcome, especially when they are usable. Following this rule we would like to mention about a bottle of good wine accompanied with a crystal wine stopper. You can engrave a beautiful ornament, your names or a date on such a gift.
And what if you are going to be a guest at a wedding reception? What about gifts for newlyweds?
Maybe you are wondering what as a gift for newlyweds, as an exceptional present. Maybe you are their friend and want to pass them a special gift, straight from your hear. It should be of a unique shape and idea, that is why it would be great to engrave a picture of the happy couple (or a picture of them and you). Maybe such a gift will bring back fantastic memories. Such a crystal can be a gift as such, or can be just a complement, to be passed together with the main gift.
Wedding pictures in crystal
And after the wedding you have memories of the day. How to store them, how to keep them alive for many years? Why not to engrave your wedding picture in glass? You can beautifully illuminate such a picture of a wedding day – the solution in a LED base (or a wooden shelf with illumination (in dimensions of your choice)). It will impress you (and your guests) anytime you look at it. A 3d wedding picture is a 2d picture (sent to us by e-mail) and converted to 3d format (more about 2d to 3d conversion in this article). It can be a wonderful memory or a gift, and 3d effect will delight you, your gusts and your family members.