Apart from project for individual clients, Crystals 3D offers many options for personalised business gadgets, personalised crystal awards or other marketing products in crystal.
When we get a request for proposal, most often we are asked for:
personalized gifts for a Managing Director, for some company event,
crystal gadgets, to be given to employees,
conferences – you are looking for 3d gadgets, as kind of an event souvenirs,
festivals, you are planning to hand thematic glass awards..
For each of such occasions we are able to propose at least a couple of options. Below you find some ideas, please, keep in mind that each product will be personalized according to your expectations.
Crystal keyrings
3d crystal key rings are ideal as personalized marketing products for business events, conferences, fairs or exhibitions. Such tiny crystal souvenirs are just perfect if you are expecting international guests, when their hand luggage weight matters. Bigger glass engraved souvenirs would be simply too big and too heavy, to put into their hand luggage.
Crystal wine stoppers
It can be kind of a gift or a souvenir for less formal occasions, such as company events, a birthday or a name day gift for a workmate. You can have many ideas for a project of such a crystal wine-stopper, it can be a company logo, an event date or a picture of a humorous graphic. Our team will be glad to assist and advise you on the project.
Crystal business card holder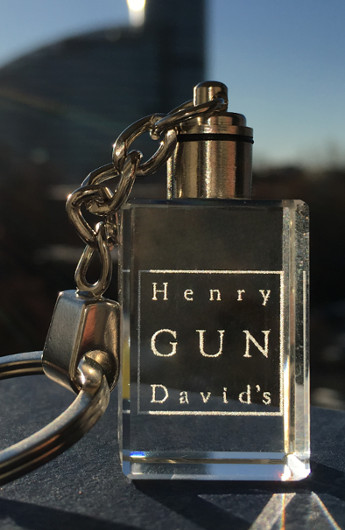 A crystal business card case can be personalized (and engraved) or can be not. It means, that even without any engraving it will be a subtle desk decoration, a handy object to store your business cards. Nevertheless, if you decide to engrave it, we can engrave your logo or a name and a position of its owner.
Personalized crystal penholder
Perfect as a personalised gift for a manager. In such a crystal pen holder you can engrave a logo or its holder name and a position. Sometimes, however, projects are more personal, like a family picture engraved in a business shape of a crystal.
Other projects
If you have some other ideas, you are looking for a shape of a crystal you do not find on our website, you are welcome to be in touch with us (info@crystals3d.com), in most cases we can adjust the solution to your needs.
B2B offer
Please, keep in mind that prices you find on our website relate to small orders. If you are thinking of a bigger one, we will calculate prices on your request for proposal. Crystal promotional products price, marketing products price and crystal awards price will be each time calculated individually, depending on the quantity and some other factors. However, remember that to tailor the offer to your needs, we need to know some essential parameters:
Quantity of engraved awards in crystal or crystal engraved gadgets
Target client – is it a conference, a festival or maybe a company event – this knowledge will help us to offer the best shape, ornaments and projects details to be engraved
Expected order time
If you provide all graphic materials or you want us to make them from scratch
Any other details, that can be important
Where they are going to be shipped
Good to know
Crystal promotional products are being engraved in our studio in Wroclaw, Poland, but are being shipped to any address all over the world
Price of more than one version of crystal awards will be still the same. E.g.: you want to favor the 1st, the 2nd and the 3rd place of any competition -> the project, as such, is the same, just the positions are different, which means all in all we have to prepare 3 projects. Price of those 3 versions will be the same (will not be increased) as if it was 1 project only
Material we engrave our crystal gadgets in glass in is very delicate (optical glass, so-called crystal). Before shipping them to the destination address we do our best to pack them well enough, not to get any mechanical failure during transfer
We check all crystal items with great attention, just to make sure all laser engraved crystal products are of the highest quality, free of production defects